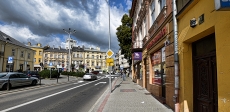 The Alicja Galiszkiewicz i S-ka S.J. Real Estate Agency was established after many years of work in the real estate business. Armed with the knowledge of all the operating methods of Przemyśl real estate agents, we decided to establish our own agency which would be capable of meeting the demands of all our clients.
The hallmark of our Agency is not only professionalism and expertise in the real estate business but also a comprehensive service with the widest range of real estate agency services.
We have both studied, law and economics respectively; so the client may be assured that all their transactions and procedures are executed perfectly. From our expert advice in the choice of premises, land section, market analysis and to the determination of the legal status of real estate, we take care of all our clients interests right up to the correct conclusion of contract. We also arrange the most beneficial finance packages all in one place, without loss of time and achieved with the feeling of complete security.
Educated as a lawyer I have provided real estate agency services since 1992, simultaneously I managed two enterprise businesses; one a legal practice and the other a real estate agency (Przemyska Giełda Nieruchomości). These two activities complemented each other well. I have dedicated several years exclusively to legal matters and during that time conducted no real estate purchase, sale or leasing of residential and functional premises.
However providing legal services I was constantly dealing with matters involving real estate transactions. I decided to return to the real estate business with Zbigniew Forys. Malgorzata has considerable experience in real estate and also the added benefit of an economic and financial background. My intention is to provide a professional service to all clients who entrust their real estate transactions to my firm. I offer a comprehensive formal service (determination of undefined legal statuses and the correct conclusion of agreements) and a financial service (arranging loans) that enables the client to complete all their transactions in one place without the loss of time and to leave them with the feeling of complete security and satisfaction. All effort will be made to ensure that any transactions conducted shall not entail negative legal consequences for the assets of the client and that all documents are signed with the full awareness of the contents held.